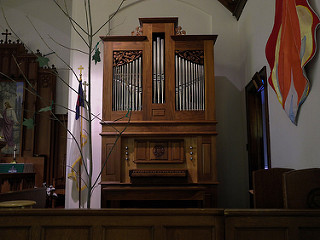 A Repurposed Tonal Design

The tonal design for this organ follows that of the late baroque southern German tradition while three sets of reused pipes provided motivation for the construction of this new instrument. Stored in a basement for a number of years, pipes available for the taking were about all that was left of value from an old church organ. Their late Victorian character held much promise for reuse, and I built this organ to incorporate them.
The exact date and origin of the old pipes is unknown despite some research. Their construction suggests that they were probably made between 1890 - 1910.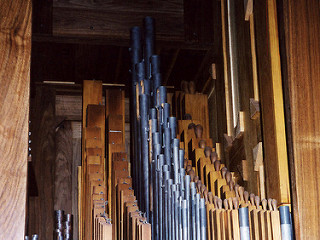 8' Hohlpfeife (old pipes divided at tonal f)
8' Viol (old pipes, from tonal f)
4' Flaut (old pipes, open wood)
2' Octav (new pipes)
1 1/3' Quint (new pipes)


51 note manual
27 note pull-down pedal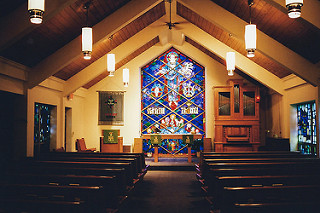 An Alsace Influenced Cabinet Organ
Design of this organ was based on my study of French and Southern German Baroque instruments. The organ proves the effectiveness of a one-manual divided stop pipe organ for use in liturgy. All stops except the Fourniture are divided between bass and treble to allow greater variety for registration than would otherwise be possible.
The organ consultant had this to say in his final report to the congregation.
The organ casework is exceptionally well done, a beautiful balanced design. It is a lovely addition to the church's decor. The tonal resources for such a small number of pipes is exceptional, and can be used in many ways even though the organist is working with only one manual and pedal. I do congratulate Mr. Panizza for his overall design and am impressed with the foundation tone of the 8' 4' and 2' pipes for accompanying the hymns and liturgy.
I built this organ alongside the instrument described above, and although much different in terms of tonal design, together they each share mechanical and case design.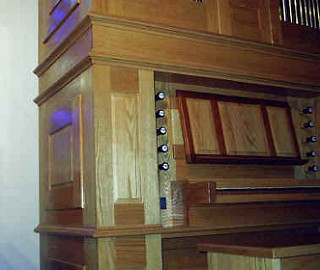 Bourdon 8'

Flute 4'

Nazard 2 2/3'

treble only

Doublette 2'

Tierce 1 3/5'

treble only

Fourniture I

Cromorne 8'

bass only
51 note manual
27 note pull-down pedal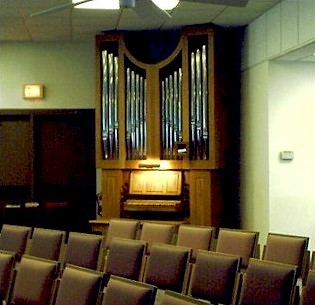 A Contemporary Visual Design
I based the tonal design of this instrument on the French baroque style. The plenum or core sound is well developed. The organ brought a fundamentally honest interpretation to a variety of literature.
The best way to have described the design intent of the organ is that it combined the color of Clicquot with the intimacy of Tannenberg.
Flute du bois 8' (open wood divided stop)
Prestant 4'
Nasard 2 2/3' (divided stop)
Doublette 2'
Cymbale III
Vox humaine 8' (treble only)

53 note manual
27 note pull-down pedal